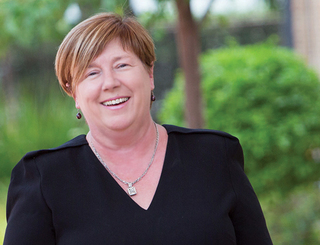 Kath McGuigan
Principal
I was born in Glasgow, Scotland and being the eldest of six children I think I always wanted to be a teacher because I loved school. I loved reading and learning. My siblings might disagree and say it was because I was opinionated and bossy! My father loved numbers and finance and my mother loved drama and reading. I was lucky enough to inherit these loves from both of them. My parents were also great dancers; this gift was not passed on to me.
I attended Glasgow University and studied Physics and Mathematics. When I graduated I then attended Teacher's College for Post Graduate Studies in Education. I taught in Glasgow for four years before immigrating with my husband and young son to Australia. We wanted a change in lifestyle and more sunshine. I then taught Mathematics at Santa Sabina College and John Paul 2 Senior High before moving to Adelaide in 1992.
In 1999 I was appointed Science Coordinator at Cardijn College and in 2004 was appointed Deputy Principal. I was attracted to the position at the Catholic Education Office which assisted schools to implement the New SACE as it allowed me to visit all of the Catholic secondary schools in the state and work with school leadership teams and teachers.
In 2011 I began as Principal of Mary MacKillop College. I love being the Principal of a girls' school. I like being able to think of the many ways that we can make the College a better place for students and staff. School improvement and change management are two of my focus areas. In particular I love the history and tradition that comes with Mary MacKillop College; the ongoing ministries of the Sisters of St Joseph and the legacy of Mary MacKillop.